Maude Heurtelou is an educator who began her career in Nutrition and Public Health. She earns a bachelor degree from San Carlos University, Guatemala and a master's degree from Laval University, Canada. She has worked in Guatemala, the Dominican Republic, Haiti, Canada and the United States.
Maude brings to Educa Vision 44 years of experience as children book author, reading program designer, curriculum reviewer and non-fiction lesson developer. During her extensive career, she has taught children and adults in and outside the classrooms. She has developed educational programs for different level of age and literacy, using culturally responsive teaching approaches in both, rural and urban areas. She has developed oral, written and visual media to develop and convey educational messages for issues relevant to education, daily living, health, survival, and literacy.
Maude had developed educational contents for the University of South Florida in Tampa, for the Center for Diseases Control and Prevention (CDC) in Atlanta, for Laval University in Quebec, for Care International in Guatemala and for the Massachusetts Institute of Technology (MIT) in Boston, for World Vision Haiti among others. For about twelve years, she was in charge of developing Nutrition Education materials for the elementary level school system in Broward County, covering the scopes of student education as well as teachers and parent's trainings. She has received an award from both Governor Bush and Governor Chiles for more than 12 years of international volunteer work in Florida.
Maude is presently the Vice-President of Educa Vision, a publishing company dedicated to the promotion of educational materials in Haiti and abroad.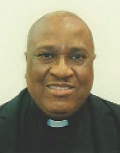 Wismick JEAN-CHARLES, prêtre montfortain de la Province d'Haïti, fut vice recteur aux Affaires Académiques et Scientifiques de l'Université Notre Dame d'Haiti (UNDH). Il a enseigné la méthodologie de la recherche et la psychologie à l'Université Notre Dame d'Haïti (UNDH) et au Grand Séminaire Notre-Dame d'Haïti. Il détient un doctorat en psychologie à l'Université Fordham des Jésuites à New-York et une spécialisation postdoctorale en santé mentale globale à Harvard Program in Refugee Trauma, Massachusetts. Il est actuellement, à Rome, le vicaire général de la Compagnie de Marie (les Missionnaires Montfortains).

Marie K. Theodore-Pharel
Marie K. Theodore-Pharel is the author of several remarkable titles, namely, I'll Fly Away; A Fish Called Tanga; Keeper of the Sky; Daughter of the House; and One More Daughter, America. She was born in Haiti and was educated in Boston. She lives in South Florida where she teaches English.